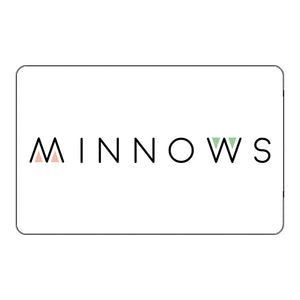 Make gift giving easy with our Minnows E-Gift Card that can be emailed to the recipient in minutes, and can be redeemed online or in store.
Simply select the eGift card in any denomination of choice, customize to your liking using the 'Customize' and 'Preview' buttons above, and add to your shopping cart. Once you complete your purchase, you will receive an email confirmation allowing you to use your gift card, or schedule and send it to your recipient of choice! 
G
ift cards are not eligible for returns or exchanges. If you are the recipient of a gift card, you can email us at info@shopminnows.com, or call us at (435)659-8717 to check your balance. 
If you would like to purchase a physical gift card to be wrapped and shipped to the recipient, please purchase here!