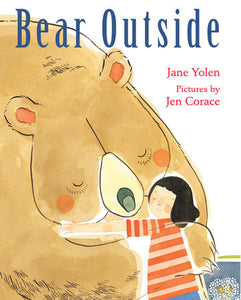 Bear Outside Book. 
Lots of people have inner strength, but one girl wears hers as a bear outside.
Some folks have a lion inside,
Or a tiger.
Not me.
I wear my bear on the outside.
In this imaginative picture book by Jane Yolen, acclaimed author of many distinguished children's books including
Owl Moon
and
How do Dinosaurs Say Goodnight
, a girl explores the many ways she expresses herself by imagining that she wears a bear as her personal protective shell. They go everywhere and do everything together.